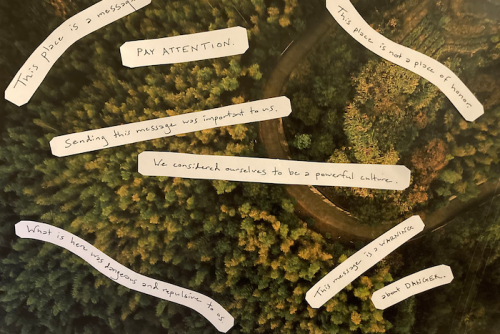 2020 Environmental Humanities grantee Taiga Christie co-organized two outdoor performance pieces at Yale Schwarzman Center as part of her grant project: This Place is a Message and Ezell: Ballad of a Land Man.
This Place Is a Message is a devised, outdoor ensemble performance using the immediacy of COVID-19 to conceptualize the climate crisis. This original play weaves together letters from climate scientists about the emotional impact of studying climate change, efforts to warn future civilizations about long-range nuclear waste, and experiences of health communication during the pandemic. The show runs May 12–15 at Yale West Campus.
Ezell: Ballad of a Land Man is an environmental, cultural and spiritual parable derived from living in the foothills of Appalachia, one man among many seeking to make sense of the time, place and condition in which we live. In the story, Ezell's choices, traumas, ancestors and more intersect with themes of domination and resilience as he seeks to take advantage of an anticipated fracking boom and the opportunity to reconnect with the people and land of his raising. The show runs May 19–22 at Yale West Campus.