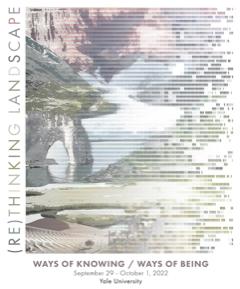 The "(Re)thinking Landscape: Ways of knowing / Ways of being" symposium took place at Yale University from September 29 to October 1, 2022.
This interdisciplinary, multi-day event hosted by the Environmental Humanities program brought together artists, activists, and scholars to explore questions surrounding the politics of the landback movement, Indigenous sovereignty, and landscape cinema.
The symposium featured panels open to the public, a film screening, and workshops with artists. It was capped by keynote speeches from professor Nick Estes at the University of Minnesota and associate professor Tiffany Lethabo King at Georgia State University.
The cross-disciplinary dialogue between the humanities and social sciences helped place the meaning of landscape within the context of material politics. Some of the topics that the symposium reflected upon included the traumatic legacies of indigenous youth schooling, depictions of nature in the film "Logos Zanzotto," and Indigenous efforts to create a framework for the Rights of Nature doctrine. 
Yale Daily News also covered the conference in a feature article.
This symposium could not have been possible without the generous support of:
The Edward J. and Dorothy Clarke Kempf Memorial Fund
The Yale Environmental Humanities Program
The Whitney Center for Humanities at Yale
Beinecke Rare Book & Manuscript Library
The Yale University Art Gallery
The Yale Group for the Study of Native America
The Yale Peabody Museum of Natural History
The Yale Department of the History of Art
The Yale Department of Italian Studies
The Yale Film and Media Studies Program