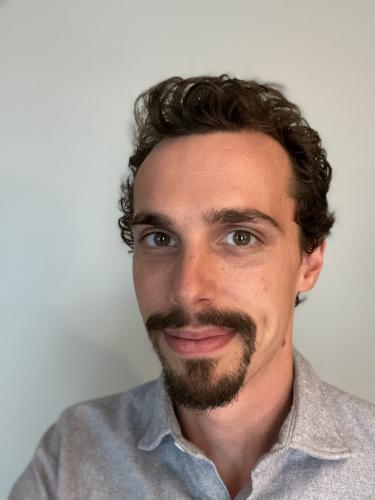 Maximilian Chauolideer graduated from Yale in 2021. He is currently an American Council of Learned Societies (ACLS) Leading Edge Fellow with Project Equity, a non-profit organization.
What was your main area of study/research at Yale?
My disciplinary background was in 19th and 20th century German literature and philosophy, but through my work in the environmental humanities I brought those texts to bear on a variety of topics, including the politics of food, environment as embodiment, and the aesthetics of the energy grid. My dissertation explored climate change as a challenge to common forms of political and poetic representation, specifically to our ways of figuring the experience of an individual as part of a coherent and unified world. I sought to use Marx's theory of the metabolic rift to read a range of authors — from Martin Heidegger to Hannah Arendt, and Hans Fallada to Ben Lerner — as experimenters in world-making under totalitarian conditions.
How did environmental humanities influence your studies and trajectory?
The environmental humanities was central, both intellectually and socially, to my experience as a graduate student. Because we shared common phenomena, questions, and anxieties instead of common methods, canons, or vocabularies, I came to understand the possibilities and limitations of my own discipline (Germanic studies, and literary studies more generally) while gaining a clearer understanding of the role of the humanities as a whole in our world today. As a community, students and faculty alike came to environmental humanities with amazing humility, curiosity, and zeal, bound by a general sense that we were working together toward a shared project that we were all helping to define. Conversations in environmental humanities were just always so much fun!
What is one positive thing that you might take from your Yale experience to your new ventures?
Through the ACLS Leading Edge fellowship program, I have just started a job with an organization called Project Equity that promotes worker cooperatives. Though there is nothing strictly "environmental" about the work they do, my experiences with environmental humanities have allowed me to see the ways in which all struggles for justice — housing, labor, land, wealth, health, food, energy, and so on — are all threads in larger braid of establishing the democratic and sustainable use of our bountiful world.
What's something new that you're doing now that you are done with your Yale program?
I'm involved with transportation advocacy in New Haven, working to make our streets and our mobility safer, fairer, and more sustainable.
Did you have a favorite spot in New Haven– to study or visit with friends?
On a hot summer day I can't say no to packing a picnic and spending the day at Lighthouse Point!