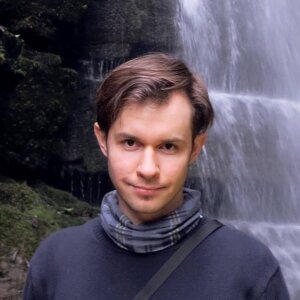 The Council on East Asian Studies at the Whitney and Betty MacMillan Center for International and Area Studies at Yale, in partnership with Yale Environmental Humanities, is pleased to announce Mark Frank as its 2020 - 2021 CEAS Postdoctoral Fellow in the Environmental Humanities.
Mark E. Frank is an environmental historian of China and the world who recently completed his PhD at the University of Illinois at Urbana-Champaign. During his time as the CEAS Postdoctoral Fellow, Frank will be developing his first book manuscript and starting work on a second manuscript. Both projects stem from his interests in the relationship between agrarianism and nationalism in the modern world.
His first book manuscript, tentatively titled, The Ecology of Assimilation in Republican China and Beyond, looks at connections between agrarian ideology, environmental practice, and ethnic relations along the Chinese frontier during the early twentieth century. Drawing from an extensive collection of unpublished records from eastern Tibet and Inner Mongolia, Frank is piecing together a history of everyday life on the Chinese frontier from the perspectives of indigenous peoples, Han settlers, and low-ranking bureaucrats. His research on this topic has been published in Resilience: A Journal of the Environmental Humanities and East Asian Science, Technology, and Medicine, and a third appeared as a chapter in the book Frontier Tibet: Patterns of Change in the Sino-Tibetan Borderlands.
His second book will look at the history of climate science. His interest in this topic stems from a chapter of his dissertation on Chinese meteorology in eastern Tibet. Frank is now working on two articles related to this second book project, with one currently under review at a history of science journal.
Frank became interested in Chinese history during his time as an undergraduate at the University of North Carolina at Chapel Hill, where he studied linguistics. Hoping to learn a non-Indo-European language, he studied abroad in Beijing, but he soon found himself as interested in Chinese culture and history as in the language itself. After spending some more time in China, Mark went on to earn his MA and PhD in East Asian Languages and Cultures at the University of Illinois at Urbana-Champaign.
As CEAS Postdoctoral Fellow, Frank will teach a course in the environmental humanities of East Asia. He will help lead the yearlong "Topics in the Environmental Humanities" workshop, part of the Environmental Humanities Graduate Certificate Program. Frank has also joined the Yale Environmental Humanities Steering Committee, which is composed of faculty and students and thus participate in the overall leadership and direction of Environmental Humanities at Yale. Frank is excited to be at Yale this year and is looking forward to meeting people at CEAS/Environmental Humanities and Agrarian Studies events!