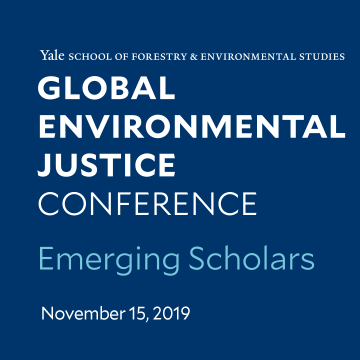 The Yale School of Forestry & Environmental Studies, with support from The Graciela Chichilnisky Environmental Fund in Honor of Natasha Chichilnisky-Heal, will host the inaugural Global Environmental Justice Conference in 2019. In its inaugural year, the conference will focus on emerging scholars to honor the late Natasha Chichilnisky-Heal, a Ph.D. candidate at Yale University concerned with natural resources management and global environmental inequities. Topics will include the intersections between extractive industries and human rights, environmental governance, adaptation in response to climate change, and how we can engage with multiple knowledge systems.  This conference seeks to break many of the standard norms of academic conferences in order to produce a rich and stimulating dialogue and foster emerging scholarship. To more fully explore the relationship of scholarship and the practice of environmental management, participation from various disciplines is being encouraged; including anthropology, climate science, epidemiology, geography, sociology, history, and others.
A prize of $2500 will be granted to the most provocative and stimulating paper. 
More information can be found here.