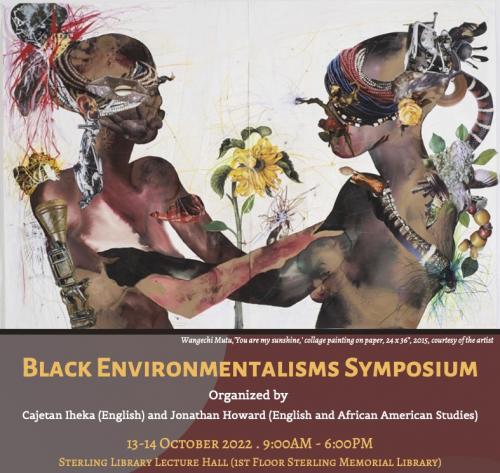 The Black Environmentalisms conference will take place on October 13-14th in the Sterling Library Lecture Hall. Featuring 30 scholars, artists, professors, and writers, the two-day event will approach the current environmental crisis through a lens of Black history and culture. What can the African diaspora teach us about our relationship to the natural world? What everyday environmentalisms are found in East African Literature? And what does 19th century African American poetry have to say about wildlife? The symposium seeks to place African humanistic studies in direct dialogue with environmental themes, opening new spaces for exploration in the environmental humanities field.
The conference is organized by Professor Cajetan Iheka (English) and Assistant Professor Jonathan Howard (English and African American Studies). It will include panels covering everything from Black geologies to Black urbanism and placemaking, with Yale professors from a range of disciplines to moderate discussions.
This event is made possible by the support of the Yale Environmental Humanities Program, Beinecke Rare Book and Manuscript Library, Whitney Humanities Center, Yale Department of English, Yale Council on African Studies, and the Edward J. and Dorothy Clarke Kempf Memorial Fund, among many others. Register here to attend. Any questions can be directed to yaleblackenvironmentalisms@gmail.com.