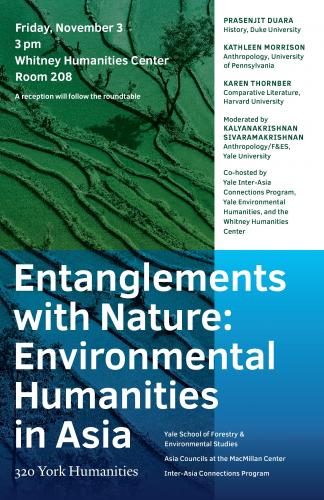 How can the environmental humanities help illuminate Asian histories and cultures? This roundtable will draw on perspectives from literature, history, and anthropology to develop its theme. 
Co-hosted by the Yale Inter-Asia Connections Program, the Environmental Humanities Initiative, and the Whitney Humanities Center, the panel features Prasenjit Duara (Duke University), Kathleen Morrison (University of Pennsylvania), and Karen Thornber (Harvard University), moderated by Kalyanakrishnan Sivaramakrishnan (Yale University). 
The roundtable will be held November 3, 3:00pm, in the Whitney Humanities Center, Room 208. A reception will follow the roundtable at approximately 5pm.
About the Participants:
Prasenjit Duara is the Oscar Tang Chair of East Asian Studies at Duke University. Born and educated in India, he received his PhD in Chinese history from Harvard University. He was Professor of History and East Asian Studies at University of Chicago (1991-2008) and Raffles Professor and Director of Asia Research Institute at the National University of Singapore (2008-2015). Duara's book Culture, Power and the State: Rural North China, 1900-1942 (Stanford 1988) won the Fairbank Prize of the AHA and the Levenson Prize of the AAS, USA. His latest book is The Crisis of Global Modernity: Asian Traditions and a Sustainable Future (Cambridge 2014). He has presented about 150 keynote and distinguished lectures globally since 1996 and his work has been widely translated into Chinese, Japanese, Korean and the European languages. He was awarded the doctor philosophiae honoris causa from the University of Oslo in 2017.
Karen Thornber is Professor of East Asian Languages and Civilizations and of Comparative Literature at Harvard University, where she is also Victor and William Fung Director of the Harvard University Asia Center and Chair of the Harvard University Asia Center Council.  A 2006 Harvard Ph.D., her research and teaching focus on world literature and the literatures and cultures of East Asia, as well as the Indian Ocean Rim. Thornber is author of two multiple international award-winning scholarly monographs – Empire of Texts in Motion: Chinese, Korean, and Taiwanese Transculturations of Japanese Literature (Harvard 2009) and Ecoambiguity: Environmental Crises and East Asian Literatures (Michigan 2012). She has recently completed a book on literature and healing around the globe.  Current projects include a book on creative networks between and among East Asia and the Indian Ocean Rim.
Kathleen Morrison is the Sally and Alvin V. Shoemaker Professor of Anthropology at University of Pennsylvania. Her research focuses on the historical ecology of Southern Asia, especially changes in agriculture, land use, and environment, integrating approaches from archaeology, history, and environmental science. Morrison has written numerous articles and was co-editor of The Social Lives of Forests: Past, Present, and Future of Woodland Resurgence (Chicago 2014). Her current projects include: (1) work on the long-term relationships between biodiversity and human land use; (2) LandCover6k, a 'big data' project using archaeological, historical, and paleoenvironmental evidence to improve climate models; (3) network and spatial analysis of Middle period South Indian inscriptions and archaeological sites; and (4) ongoing work on the archaeology of farming, food, and power relations in South India from the Neolithic to the Early Modern period.
Kalyanakrishnan Sivaramakrishnan is Dinakar Singh Professor of Anthropology, Professor of Forestry & Environmental Studies, Co-Director of the Program in Agrarian Studies, and Co-PI of the Carnegie Corporation Grant for Inter-Asia Connections at Yale University. His current research includes work on environmental jurisprudence in India and urban ecology in Asia. His published work covers environmental history and political anthropology, science and technology studies, and cultural geography. He is the author or editor of several books, and has written numerous articles on forests, human-animal relations, economic development, nationalism, and urban environments in modern South Asia. His most recent book, as co-editor and contributor, is entitled Places of Nature in Ecologies of Urbanism (Hong Kong University Press, 2017).