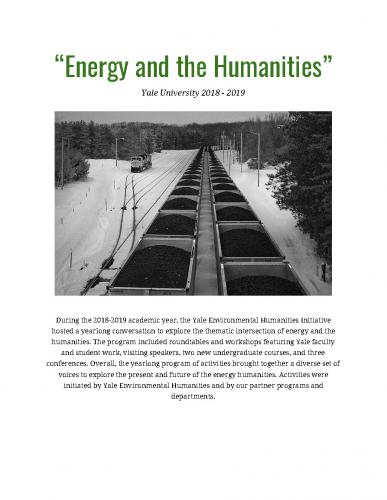 View or Download: "Energy and the Humanities," 2018-2019 Report
During the 2018-2019 academic year, Yale Environmental Humanities  hosted a yearlong conversation to explore the thematic intersection of energy and the humanities. The program included roundtables and workshops featuring Yale faculty and student work, visiting speakers, two new undergraduate courses, and three conferences. Overall, the yearlong program of activities brought together a diverse set of voices to explore the present and future of the energy humanities. Activities were initiated by Yale Environmental Humanities and by our partner programs and departments.
Douglas Rogers (Anthropology) and Paul Sabin (History) were the faculty conveners for the "Energy and the Humanities" thematic program. Deepti Chatti (Forestry & Environmental Studies and Women's, Gender, and Sexuality Studies) was the graduate program coordinator.
The 2018-2019 "Energy and the Humanities" series was supported by generous grants from:
Humanities/Humanity Grant Program, Whitney Humanities Center
The Edward J. and Dorothy Clarke Kempf Memorial Fund
320 York Humanities Programming Endowment
Yale School of Forestry and Environmental Studies