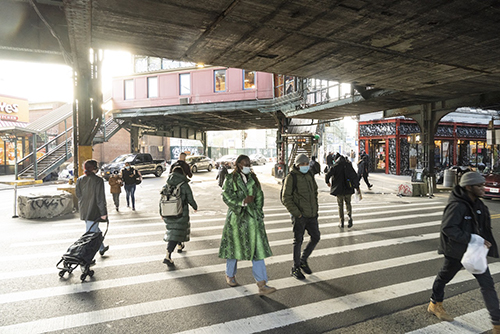 On October 11th, professors and artists will engage in a conversation about Camilo José Vergara's "The Pandemic Diary" at the Yale University Art Gallery's Robert L. McNeil, Jr., Lecture Hall (201 York Street).
"The Pandemic Diary" is Vergara's ongoing documentation project of COVID-19's impact on poor and minority communities in New York City.  He will be accompanied by Robert Beauregard, Professor Emeritus of Urban Planning, Graduate School of Architecture, Planning, and Preservation, Columbia University, New York; Gregg Gonsalves, Associate Professor of Epidemiology, Yale School of Public Health, and MacArthur Foundation Grantee; Elihu Rubin, Associate Professor of Architecture, Urbanism, and American Studies, Yale University; and Laura Wexler, the Charles H. Farnam Professor of American Studies and Women's, Gender, and Sexuality Studies, Yale University.
The discussion is hybrid format. On Zoom, closed captions will be available in English. Registration required for virtual attendance; to register, visit https://bit.ly/3Blqcy5.
For in-person attendance, visit https://artgallery.yale.edu/hours-and-directions to learn about our current vaccination and mask requirements.
This is generously sponsored by the MacArthur Foundation, with additional support from the Yale Urban Media Project of the Yale School of Architecture and the Yale University Art Gallery.