The Graduate Certificate is open to Yale doctoral students and professional school students who seek to establish a strong foundation in environmental humanities topics and methodologies across the humanities disciplines. Students must take three approved graduate classes and participate in a yearlong workshop to discuss key concepts and developments in the field. Students also complete a teaching or public humanities requirement and present their scholarly research to an interdisciplinary audience.
Knar Abrahamyan studies Soviet opera as a colonial technology of rule in Armenia and Kazakhstan. Knar draws on coursework in postcolonial studies, ecocriticism, and Soviet urbanism to explore Armenian and Kazakh composers' and librettists' responses to Soviet environmental mismanagement. Knar's next project, a study of 20th-century art and literature grounded in sound studies, animal studies, and critical race theory, will investigate nonhuman subjects in art and ask "whether the humanities can transcend anthropocentric ethics—a pressing question in the wake of current environmental crises."
Hanna Ehrlich's research addresses diseases, like SARS-CoV-2, that emerge in regions where the boundaries between humans, wildlife, and livestock populations are undergoing rapid change. "In many ways," Hanna writes, "epidemiologists think like environmental humanists," and environmental humanities coursework offered Hanna "vital context to understand the cultural and historical determinants of disease emergence" and the potential limits of public health research. For Hanna, the environmental humanities and epidemiology informed each other in a rich two-way exchange, and "together," she notes, "the tools of epidemiologists and humanists can inform a research and practical agenda that can more effectively surveil, understand, and ultimately change our common world."
Abigail Fields studies environmental thought as it appears in nineteenth- and twentieth-century French literature, especially as it relates to land. The certificate program allowed Abigail a "very unique opportunity for a graduate student in French literature" to explore ecocritical methodology, which she notes is still "a significant lacuna in the field of French Studies," in a cross-disciplinary and comparative manner. Courses in nineteenth-century American environmental literature, histories of European climate science, and early modern understandings of the human and non-human helped Abigail construct a robust "theoretical corpus" in preparation for her dissertation project.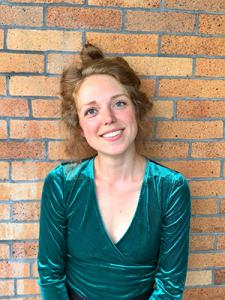 Anna Hill's research focuses on twentieth-century American literature, ecocriticism, and memory studies. For Anna, literature is able to "illuminate the psychological and social impacts of issues like climate change, pose questions about narrative agency, and even help us to imagine alternative futures." Anna writes that courses in speculative fiction, animal studies, and histories of American environmental writing provided space for "meaningful forms of cross-disciplinary collaboration," inviting students to "interrogate shared interests together in order to better understand environmental problems – and 'the environment' as a concept – from multiple directions."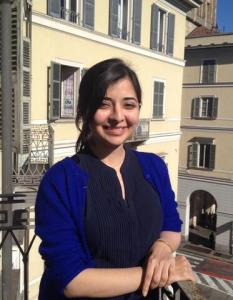 Shalini Iyengar's doctoral research focuses on human and more-than-human entanglements and place-making in the Bay of Bengal. Shalini's engagement with the environmental humanities has meant reframing the biases and assumptions of a field dominated by scholars in the Global North, looking instead to political ecology, critical law and geography, and environmental history from the Global South. The historical differences between these worlds, and the different claims about justice they entail, Shalini writes, "must be taken seriously if environmental humanities is to respond to the fundamental challenges of our times."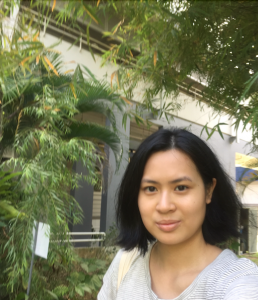 Vanessa Koh studies the material politics of land and sovereignty in Singapore through a political ecology of the ground. Her research delves into the ways in which people come to understand the meanings and values attached to what we call "land." For Vanessa, the environmental humanities offers a way into the "explicitly political question of how it is we come to arrive at judgments that transform and perturb the world" and impact human communities. With coursework in contemporary environmental problems, conservation and development, and science and technology studies, Vanessa built upon her training as an anthropologist to more deeply consider "what it means to inhabit a world during an era of environmental change."
Caitlin Kossmann is a historian of science particularly interested in ecology, biology, and planetary science and the question of "who produces knowledge about the globe/planet/Earth/world/environment, under what terms and to what ends." Caitlin's coursework in Indigenous and Critical Black studies, science and technology studies, and material culture, she writes, has been "essential" in forming her dissertation on the Gaia hypothesis and other visions of planetary-scale ecology and environment in the late twentieth century. For Caitlin, studying the environmental humanities granted access to a diverse set of methodological tools and interdisciplinary debates rich with productive conflict and opportunities for cross-pollination.
Tyler Lutz's research ventures to meet literature and natural science in their ecological middle. "Anthropogenic climate change," Tyler writes, "is not foremost a scientific issue;" it invites us instead to "reevaluate how scientized modes of being in the world interface with the innumerable other facets of what makes us human." As a certificate student, Tyler took courses on nonhuman entities in literature, American literary ideas of "nature," and Enlightenment and Romantic ecopoetics, pursuing, in his words, the question of "what new avenues for dialogue are thinkable at the synapse between the humanistic and natural sciences," and how such conversations might lead us toward reparative environmental action.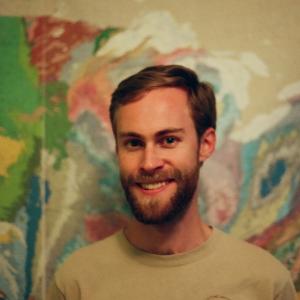 Taylor Rose studies US history and Native American history from the 1840s to the present, focusing on the relationship between national security infrastructures, Native land dispossession, and the transformation of the Nevada desert. For Taylor, coursework in the environmental humanities revealed "the potential of interdisciplinary collaboration and qualitative research unmoored from the narrow, orthodox conventions of traditional doctoral training" within his home discipline of history. What's more, the certificate process allowed Taylor a "sense of ownership over the direction" of the field of environmental humanities, as he developed methodological expertise in historical geography and contributed to ongoing interdisciplinary conversations.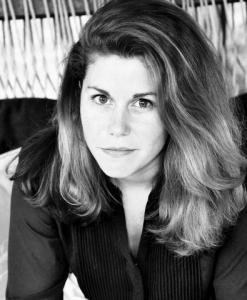 Lindsay Stern researches the "rights of nature" doctrine, a growing international legal movement that extends rights to various non-human entities, including non-human species and ecosystems. Under the grouping of "Nature's Mask," she pursued courses that allowed her to study the long history of this doctrine across three conceptual sites: the Greek stage, the laboratory, and the court. Her research and coursework in the environmental humanities led to a July 2020 article on primatologist Sue Savage-Rumbaugh for Smithsonian Magazine, titled "What Can Bonobos Teach Us About the Nature of Language?"
Teona Williams' research explores the intersections of Black liberation struggles in the U.S. South with critical race theory and environmental justice. Teona writes that her environmental humanities coursework, including classes in Black ecologies, Black geographies, and Indigenous studies, has "expanded [her] methods, frameworks, and approach to Black Studies," further honing her research into Black ecorelations, food and land sovereignty movements, and Black worldmaking and survival strategies.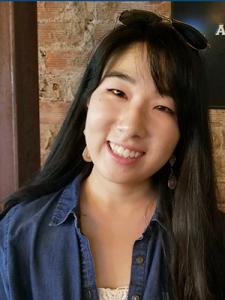 Helen Yang studies 19th century American literature, with a dissertation on the cultural and healing significance of water. "As a literary scholar in the environmental humanities," Helen writes, "I see my role as one which identifies the stories being told, and how these stories–and the ways we tell, perpetuate, and digest them–shape our relationship to the environment." Coursework on vessels, non-human entities, and the construction of ideas about 'the environment' gave Helen fresh insights into "beings whose voices and presence were otherwise invisible or overlooked," an important task for any humanist seeking to look past cliches and one-dimensional narratives of environmental crisis.