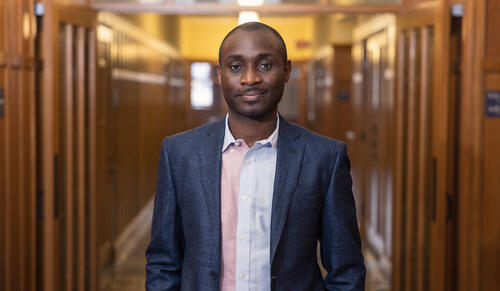 Cajetan Iheka, Professor of English and Yale Environmental Humanities steering committee member, has been named the new director of the Whitney Humanities Center. Read more below.
Professor Iheka is the author of two books that bridge African studies, literary and media studies, and the environmental humanities: "Naturalizing Africa: Ecological Violence, Agency, and Postcolonial Resistance in African Literature" (Cambridge University Press, 2018), and "African Ecomedia: Network Forms, Planetary Politics" (Duke University Press, 2021), which won the 2022 Ecocriticism Book Award for the Study of Literature and the Environment, the African Studies Association Best Book Prize, and the Ronnie Heyman Prize for Outstanding Scholarly Publication in the Humanities, among other honors. He is also the editor of two volumes of essays and has authored numerous articles related to literary history and environmental studies.
Read more at Yale News.