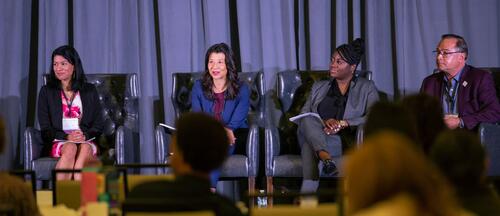 From the practical implications of the Biden-Harris Administration's Justice40 initiative to inequities in grant funding and salaries at environmental organizations, the 2023 New Horizons in Conservation Conference was both a barometer of the progress achieved and of the still-significant challenges facing communities of color, and all underrepresented communities, in the environmental space.
Hosted by the Justice, Equity, Diversity and Sustainability Initiative (JEDSI) at the Yale School of the Environment and held online and in New Haven, Connecticut, at the Omni Hotel May 10-13, the conference drew 320 in-person registrations and 166 virtual registrations from across the U.S. and the world. Speakers and panel discussion moderators came from both the private and the public sectors and included thought leaders from academia, the arts, business, government, and the nonprofit sector.
Read more at the Yale School of the Environment website.