Yale Environmental Humanities is delighted to announce the three 2021 recipients of the Environmental Humanities Certificate sponsored by the Yale Graduate School of Arts and Sciences.
Certificate recipients include Lav Kanoi, a doctoral student in Anthropology and Environmental Studies, studying the historical and cultural aspects of water management in Indian cities; Cheng Li, a doctoral student in East Asian Languages and Literatures, specializing in the cultural history of forests in twentieth century China; and Sarah Weston, a doctoral student jointly in the English and History of Art Departments, who uses eco-critical approaches to the study of literature and art.
The Graduate Certificate in the Environmental Humanities is open to Yale doctoral students who seek to establish a strong foundation in environmental humanities topics and methodologies across the humanities disciplines. Students must take three approved graduate classes and participate in a yearlong workshop to discuss key concepts and developments in the field. Students also complete a teaching or public humanities requirement and present their scholarly research to an interdisciplinary audience.
Lav Kanoi studies the "social life of water" through urban ethnography and historical and cultural studies. His research explores the impacts of water on human behaviors and experiences, particularly in India, and reveals aspects of the relationship between human nature and natural resources. Lav has completed coursework in environmental and urban anthropology, as well as directed readings in "Urban Nature" and the "Anthropology of Water." Lav also has served as a teaching fellow for "Power, Knowledge & Environment" and "Meaning and Materiality." Lav sees himself nurturing in students "a sense of wonder in the world that, I believe, can be a unique gift of the humanities in general and the environmental humanities in particular."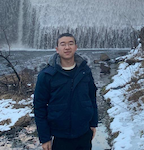 Cheng Li studies cultural representations of the natural and built environment in China and the modern world. His Yale dissertation examines how trees and forestry shaped nationhood and subjecthood in twentieth-century Chinese literature and culture. "In everyday life, from furniture to clothing, from oxygen to newspapers, trees influence people's livelihood so dramatically and comprehensively," Cheng writes of his project. "Nevertheless, in everyday life people are blind to the presence of trees." Cheng has completed coursework in environmental ethics, environmental history, and the environmental humanities. Cheng writes, "By learning from natural scientists, I have learned the importance of interdisciplinary works in understanding the complex interaction between human beings and the non-human world." He has served as teaching fellow in "Asia Now: Human Rights, Globalization, Cultural Conflicts" and will teach his own class on environmental humanities and East Asia in Fall 2021.
Sarah Weston's research takes ecocritical approaches to eighteenth and nineteenth century literature and art. While at Yale, she has completed coursework on eighteenth and nineteenth century theories of landscapes, Romantic poetry and the environment, and media theory. Sarah has taught three self-designed courses, including a class on outer space and a course on disappearance (including species extinction, urban decay, climate change, and other topics). Sarah is also committed to studying the ecology and science of art materials. While an undergraduate student at Stanford, Sarah pursued an apprenticeship that allowed her to learn William Blake's complex process of etching and printing as a means for better understanding the material and ecological aspects of his cultural production. She continues to print books using Blake's process in her free time. Sarah explains that she finds it "especially important to study…the relationship that artists had with the natural materials they used, and the ways in which the Industrial Revolution altered and warped this relationship."
Kanoi, Li, and Weston are the second cohort of students to complete the certificate program. In 2020,
Carlos Nugent
, a doctoral student in English, was the first student to graduate after having completed the environmental humanities certificate.