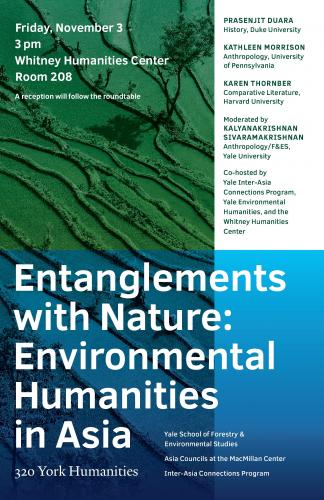 How can the environmental humanities help illuminate Asian histories and cultures? This roundtable will draw on perspectives from literature, history, and anthropology to develop its theme. 
Co-hosted by the Yale Inter-Asia Connections Program, the Environmental Humanities Initiative, and the Whitney Humanities Center, the panel features Prasenjit Duara (Duke University), Kathleen Morrison (University of Pennsylvania), and Karen Thornber (Harvard University), moderated by Kalyanakrishnan Sivaramakrishnan (Yale University). 
The roundtable will be held November 3, 3:00pm, in the Whitney Humanities Center, Room 208. A reception will follow the roundtable at approximately 5pm.